Stripes Carpets are a classic pattern that never goes out of style. Naturally an eye-catcher, a striped rug is excellent for creating a sense of length in any space, making it particularly suitable for narrow areas like hallways and stairs.
Our range of luxurious striped rugs comes in various stripe widths and colors, so you can go as bold or subtle as you feel comfortable.
Ideas to Combine Black and White Striped Rugs
A black and white striped rug can become a striking decorative element in your rooms. Another advantage is combining it with neutral and more daring accessories, which are fashionable this season.
Find here some ideas you can Incorporate into your home according to your Personality.
1. Use Neutral and Pastel Colors and Patterns of Stripes Carpets
In this concept, you can use furniture in a neutral coloration that does not detract from the rug, such as the armchairs and the coffee table, but add patterned accessories. In this link, we give you some tips to combine them.
And to add a subtle shade, use pastel colors if you don't want to risk too much.
2. An Idea in Gray
Gray is one of the colors that has become a favorite of some designers. If your house already has this tone, you can ideally incorporate a striped rug, and it will remove a % of monotony and make it stand out more.
3. Stripes Carpets with Colored Furniture
If your Personality is more daring, you will love this concept. Combine a piece of furniture in a striking tone with a striped rug, add your favorite accessories and enjoy the result.
4. Stripes Carpets in the Hallway
If you no longer like your entrance mat, the one that says "Welcome," you can change it for a striped one, especially if you have a hallway. It will be a new welcome to your home.
5. Mix Everything you Want
Try to make a combination of accessories and furniture, from the most sophisticated to the most Fun, going through an antique and more authentic style, even in shapes and textures. We share this idea with you!
6. Striped Carpets with Colorful Art on the Walls
If you prefer to highlight other elements in your decoration, the striped rug is so versatile that it can become a neutral element, thus highlighting other aspects, such as the art on your walls.
7. Combine Modern and Sophisticated Accessories
You can combine a striped rug with more sophisticated accessories and neutral furniture for less daring personalities. You will give a dissimilar touch to your home while maintaining your style.
8. Sober, But Fun
Maybe you have a chair in a shade that isn't as bright, but it's also not a classic shade like white, brown, gray, or black. Please take advantage of this advantage and add something that makes it even more attractive, like a striped rug.
Benefits of Striped Carpets
If you're looking to add a splish-splash of color to your home or want to create a whole new look, choosing a striped rug is the way to go! A. the Perfect way to do both!
The striped rug trend is here to stay! While many shy away from striped and patterned rugs, fearing they will soon go out of style, it seems! A. Striped rugs, while visually stunning, are incredible for more than just their looks – learn more about the many benefits of choosing a striped rug to complement any area of ​​your home.
Create an Impression of Space
Stripes identify for their ability to create the illusion of larger size, which also applies to striped rugs. Adding a striped rug to the rooms in your home will help lengthen or add width to the area, making your rooms appear larger than they are. Pair a striped rug with light neutral walls for the best space that maximizes the visible effect.
Inject Some Color
Room. Striped rugs might be the perfect solution if you like to keep your walls simple and light but still crave coloration elsewhere. A muted striped rug with a hint of red (or whatever shade you want) and a few accessories in a similar hue will help bring it to life.
Stay on Trend of Striped Carpets
The striped rug is sure to keep your home looking up-to-date and fashionable. Including multiple colors allows for more decor variation, meaning your Carpet will match no matter what look you choose.
To Make a Declaration Striped Carpets
Make your stairs or hallway a highlight by choosing a brightly colored striped rug. Not only will this improve interest in these often overlooked areas, but it will also help them appear more spacious.
Costume Marks
As with all patterned rugs, stripes are the perfect way to hide marks and dirt that naturally accumulate over time. The different colors work wonders in drawing attention away from imperfections – the ideal choice for high-traffic areas like stairs and hallways!
Must-Have: Stripes
Stripes are a classic pattern. For decades, stripes have been seen on men's dress shirts and pinstripe suits, even on the fun cushions at the Los Angeles pool. Inside the home, stripes are a conventional decorating pattern that can sound coastal, farmhouse, traditionally elegant, and modern.
1. The Direction of the Long and Short Line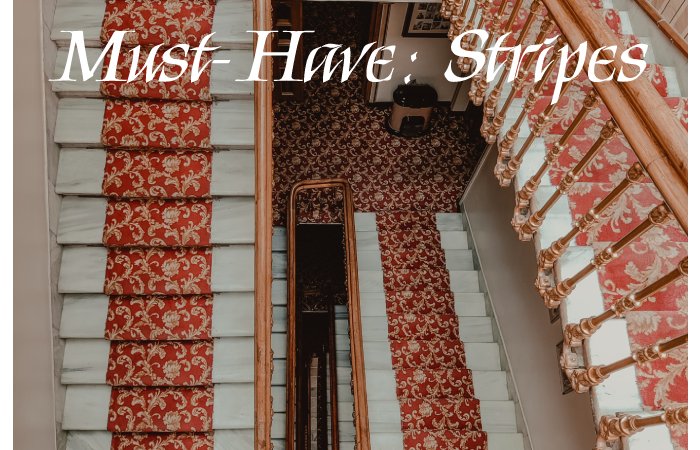 The orientation of the carpet stripe can significantly impact the perceived size or l. A. Length of a room. Let's look at two brokers as an example.
A line along it. A. The Carpet will accent l. A. Length of l. A. Room in Los Angeles. Here, your eyes quickly follow the linear design to the very last, making the hallway seem long. It's a concept comparable to little people wearing vertical stripes to make them appear taller.
Carpet will draw your eyes from side to side instead of immediately across. So if you have a short hall or living room that you want to appear longer or wider, orient the stripe of the rug in that direction. Alternatively, the lines that run parallel with the short side of it.
2. Combine other Patterns with Bold Stripes on Carpets
High-contrast striped rugs, especially two-tone ones, draw a lot of attention and are often preferred. A. Imperative piece of room design. Still, be careful not to introduce too many competing design elements.
This brown and cream striped rug by Doris Leslie Blau is the focal point of this living room designed by Alberto Pinto. The fur print on the two chairs does not overpower the striking striped rug design.
If you want to mix more patterns with a high-contrast striped rug, keep it simple and graphic, and vary the scale. This living room combines three practices without seeming chaotic: a small chevron and stripe on two pillows and a larger interlocking diamond on the pair of chairs.
3. Stripes Carpets and Colour: Soft or Bold?
You can also attract or draw attention away from particular components depending on the colors that use in the rug.
The muted, earthy colors (greys, blues, creams, and browns) are subdued and don't detract from the true appeal of this room, the Los Angeles ocean view on the outside. If you like stripes but are shy about going the ultra-sassy route, selecting one in soothing hues is an excellent place to start.
On the other hand, these intense streaks of caramel coloration immediately call out to him. A. Attention on the ground. Like its high-contrast counterpart, stripes in bright colors also visually "speak" loudly. They are a good choice for a room where you want to inject a percentage of positive energy.
4. Width of the Striped Carpets concerning the Size of the Rug
Confused about how big (or small) you should use a rug with different-sized stripes? There are no hard and fast rules, but here are some points to consider:
Striped rugs are the most flexible when it comes to rug size. They can almost be read as textural versus a natural pattern, too. Tinny pencil stripes look great on large rugs, like l. A. The size of a chamber shown here, and even a modest two-by-three-foot size that you could use in a small hallway.
Medium-sized, highly graphic stripes look best when contained within a "zone." Some examples are under a dining table, as shown here, or landing in a grouped seating area.
Using a room-sized, high-contrast striped rug will likely look disoriented. Although the size of l. A. Carpet is relative to the room's dimensions, it is perfect for keeping busy stripes at bay in the medium size range.
These stripes are about fifteen edges wide, making them read as solid and unifying. The drawback is that you will need the physical space to accommodate the rug. On the other hand, a big stripe will only work on an equally large carpet (in a comparatively sized room!).
Also Read: Doormat – Description, Importance, and More