Maharashtrian Bridal Looks: Maharashtrian weddings are all about vibrancy and richness. Their culture and traditions are genuinely reflected in their marriages. Not only that, even their wedding ensembles are nothing but effortlessly graceful, full of colors, and irresistibly stellar. The moment we see a Maharashtrian bride, our Heart skips a beat.
A beautiful Nauvari saree with green glass bangles, the half-moon bindi, Nath, and not to forget the pretty mundavalya, all these things pretty much sum up the look of a Maharashtrian bride, which sets them apart from the rest. Our 'Marathi Mulgi' carries herself with grace and charm that our eyes fixate on her.
We found some of the prettiest and most stylish Maharashtrian bridal looks we love. These brides look so gorgeous in their wedding attire that we couldn't help but fall in love with them. So, our to-be brides, what are you waiting for? Get on scrolling for some paramount inspiration looks that will leave you wanting more.
Latest Maharashtrian Bridal Looks that are Drop-Dead Gorgeous
A Monotone Look for Utmost Grace
We can't deny the grace that a single color beholds. These Maharashtrian brides who decided to opt for a single color nauvari saree look insanely pretty. Though simple, the monotone brings out these lovely brides' inner beauty. We LOVE these bridal looks, and we are sure you do too. 😉
Floral Mundavalya that Looks Beautiful
What's a Maharashtrian bride without a mundavalya? It is a must to complete the bridal look for our Marathi Mulgi. It sets her apart. And when a bride decides to ditch the regular mundavalya and put on a floral one, it is sure to make all heads turn.
Drenched in Traditions from Head-To-Toe
When a bride carries her traditions on her wedding day, what more could we ask for? These brides made up their minds to take the traditional route, and we are totally up for it. The timeless nauvari saree gives a simple yet sophisticated look. And did you notice the glow on these brides' faces?
Twinning With Your Partner For The Ultimate #Couplegoals
What better than twinning your favorite nauvari saree on your big day with your better half. The grooms here matched their parkas with their stunning brides' ensembles. They are giving us primary couple goals and left us swooning.
Yellow and Green are a Match made in Heaven
Some colors look best when paired together. One such combination is the bright green color paired beautifully with a beautiful yellow. These brides took the perfect match of colors and took it a notch higher with their elegance. They are giving us bridal inspiration that is worth bookmarking.
Marathi Brides Giving Us Major Maharani Vibes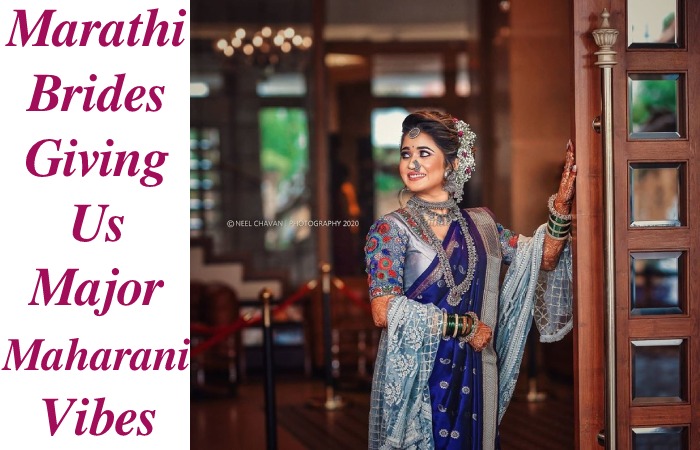 The Maratha queens were known for their loyalty and bravery. These trendy Maharashtrian bridal looks took inspiration from their culture and set their Heart on an ensemble that gives a glimpse of their history. They look poised and completely unsurpassable and give us the ideal #maharanivibes.
Also Read: Clothes Adapted for People
Trends and Traditions Go Hand-In-Hand
Our millennial brides love taking the modern route but at the same time embrace their traditional roots. Although these Maharashtrian brides gave a conventional nauvari saree a pass, they stuck to the mundavalya to complete their bridal look. It looks so stylish yet has an old-world charm about it.
Cos Orange is the Colour of the Season
It seems that orange is quite a favorite color of our Maharashtrian brides. No doubt, our brides love this gorgeous hue. We spotted so many brides wearing this festive orange color for their wedding day that it had to be included in our list. Just look at them, and you'll understand why it is such a crowd-pleaser.
Over the Top, Jewellery has our Heart
As much as we love simplistic jewelry, there is a separate fan base for extravagant pieces of jewels. These brides over the top jewelry are to die for. Any bride-to-be who wants to adorn heavy pieces of jewels needs to take inspiration from them who carried them so effortlessly and made our hearts melt.
Off-Beat Maharashtrian Look for the Quirky Brides
It's time that our brides take a little off-road and experiment with their looks. This bride did away with the standard colors for a nauvari saree and chose a completely different, off-beat color for her wedding ensemble. We are already crushing over her choice and are sure you are too.
A Heavily Embroidered Border takes the Look a Notch Higher
Keeping it simple but taking their look a notch higher are our Maharashtrian brides who adorned a plain-sailing nauvari saree with a heavy, embroidered border. The bordered saree makes for a first-class choice for a dreamy Maharashtrian bridal look.
Also Read: Deodorant Foot Cream with Essential Oils