Hybrid Mattresses are the latest in the mattress world. I've seen that most big brands put out at least one such model. But what is a hybrid mattress, and what are its advantages and disadvantages? Is it the latest sleep system, a fad, or another marketing gimmick? Let's analyze it.
How is a Hybrid Mattress Made?
A hybrid is a thing that comes from two or more elements of different nature. In the case of ybrid mattresses, these elements are usually the springs of a lifetime and the foams used in manufacturing mattresses in other formats. A hybrid mattress typically has springs (usually pocket springs) and memory foam and latex on the surface.
If you are already half informed on mattresses, the question may arise: "Don't most mattresses already have viscoelastic and latex springs on the surface?"
The truth is yes. In some respects, the name "hybrid" is just a marketing term. Let's say it's an evolutionary advance rather than a revolutionary one. Hybrid mattresses typically have a little more foam and a little less than other materials commonly used in innerspring mattresses. Also, the surface of hybrid mattresses is generally flattened, almost like a foam mattress, rather than more fluffy like conventional spring mattresses (although there are exceptions).
Warning: Not everything labeled a "hybrid" mattress is a hybrid. It is now fashionable to call all mattresses that combine springs and foam "hybrids." Hybrid mattresses have an exceptional touch that is difficult to describe, but if you spend some time on one, you will notice the difference. The sensation is a mixture of the slow response of viscoelastic and the rebound effect of spring mattresses. Abstraction mattresses use large blocks of foam on the surface and less fiber. If you try a bed that feels the same as a standard spring mattress and has a soft texture, it is not what specialists would consider a hybrid mattress. But in the close, this does not matter. Check out the support and comfort with any bed you try, hybrid or not. If you need help with these aspects, check out my mattress guide.
Advantages and Disadvantages of Hybrid Mattresses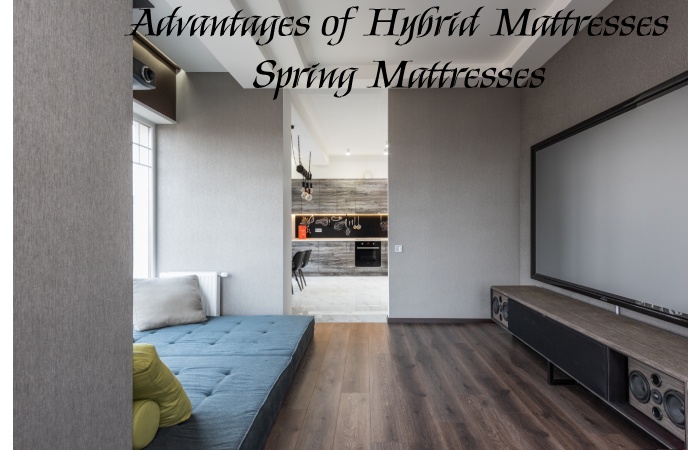 Since hybrid mattresses are simply a variation of spring mattresses, the pros and cons are pretty much the same. Spring mattresses are easier to move around in and a little cheaper, but they're not as good at disguising movement across the bed or providing much of a hug to your body. Here are other advantages and disadvantages more specific to hybrid mattresses:
Advantage
Better adapting to the contour of your body than pocket spring mattresses
They provide a unique feel that many people love
Provide joint and back support A hybrid mattress combines a coil spring with different types of memory foam to provide various joint and back support.
Relieve pressure points Another advantage of hybrid mattresses is pressure points.
They keep their shape for longer The innerspring, metal frame mattress has been around for a long time.
Disadvantages
Hybrids are a bit more expensive than other mattresses of similar quality. You're paying, in part, for the fact that hybrids are the latest mattress
Everyone thinks they have a hybrid mattress these days, so you may have come across a few beds that aren't true hybrids.
Heat retention When we sleep, our bodies release heat, and memory foam can trap that heat and make the mattress feel warmer.
Memory foam is not for everyone; unfortunately, many people don't like how memory foam feels when they sleep.
Conclusion
As we constantly repeat, try the mattresses and check their support and comfort. Please don't pay too much attention to the word hybrid because it's more of a marketing device, but keep in mind that these mattresses should offer a slightly different feel, a mixture of foam and spring mattresses. They are not necessarily better or inferior to other mattress types, just somewhat different.
Also Read: What is Sofa Set?