Fashionable Scarf: Your granny and your mom were right. The scarf is essential in winter as it prevents the cold from affecting our respiratory zone.
Accessories are clothes, arrangements are to music, and what type of brushwork is to painting. The truth is that in addition to their functional aspect, scarves add a touch of unique style to any outfit in winter. It is the grace of accessories: they compliment our look and provide nuances that can be more traditional or rock.
That is why here we give you a guide to please your mom, avoid catching a cold and wear that scarf with style.
Fashionable Scarf Types
Proportion
The length and thickness of the scarf should always be proportional to your body. Otherwise, it will generate an unflattering asymmetrical effect. If you are tall, wear long scarves. If you are short, wear medium-length scarves. Short scarves are not very versatile and are a bit old-fashioned. If you have a long neck, wear thick scarves. If, on the other hand, your neck is short, you prefer thin scarves.
Classic Drop
It is a way of wearing the scarf that has more to do with style than keeping warm. It consists of letting the scarf hang from your neck in equal parts (here, the proportion is super significant since a very long scarf can shorten the figure) or turning it around. You can wear it inside or else outside the coat.
Classic Lap
It is a warmer way to wear a scarf. With the equal ends hanging from the neck, wrap a loop or two, depending on the length and thickness of the scarf, leaving the remaining ends at the back. You can consent them loose or tie them at the back.
European Knot
Fold your scarf in half and put it around your neck. Then, tuck the ends of the fabric into the fold on the opposite side of the scarf and pull tight, so the knot is right in front of your neck. Also known as the Parisian knot, it is an exquisite and traditional way of wearing your scarf, perfectly combined with a formal or office look.
False Knot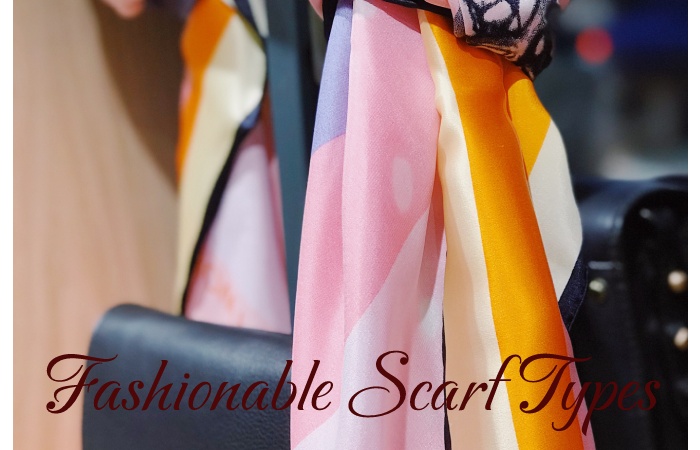 For this style, a relatively thick scarf is recommended so that the knot shows off more. First, the scarf is hung around the neck, leaving one end shorter than the other, at chest height. The longest point is taken, looped around the neck, and passed under the loop. Then the shorter end is passed through the same place; this way, the two ends of the scarf are below the knot.
5 Types of Scarves to Set Trends for Men
It seemed impossible, but winter has finally arrived, and with it, the time to include in the clothing garments that relieve us of that cold already breathed in the streets.
Scarves and foulards have become the perfect garment to protect yourself from the winter cold and show a touch of elegance, color, and personality to your clothing.
It is a perfect masculine ally to achieve a more attractive appearance that women love.
Ideally, you should use the one that best suits your style. You can find them in various sizes and colors and use them for both day and night, allowing elegant and classic or informal and modern looks.
Dare to innovate! You can choose the model that best suits you and contact us for advice.
In today's object, we want to give you the keys to choosing the perfect scarf for every occasion.
Types of Scarves to Mark Style
Who would have thought that a garment the Romans already used would be so important today?
The scarf is an accessory that protects us from high temperatures but also helps us define our look. Today we want you to know the variety of this complement widely used today.
 Unisex Braga Type Circular Bouffant
It is a warm tricot knitted unisex circular scarf. Ideal for you to add to your clothing daily.
It is a modern and versatile alternative to the traditional scarf. Also, it is fashionable for men because of its easy placement and looks perfect. It is also light, warm, and breathable, and you can choose different colors to give your outfit an original and fun touch.
It will be the perfect, perfect touch for you to look stylish this fall and winter.
 Unisex Circular Knitted Neck Scarf
A circular unisex knit neck accessory in the shape of an eight. Still don't have it? It is a dress that cannot be missing from your wardrobe for this winter. Modern, comfortable, warm, and available in a multitude of colors.
Ideal to use every day and add a touch of classic elegance to your look.
 Unisex Pashmina Scarf
A classic that you cannot miss this winter in your wardrobe. A  garment with a herringbone design, amiable, will combine with all your clothes. It is perfect for elegant events where you want to make a difference with your look between casual and classic.
Its exquisite texture and warmth will incomparably envelop you. It includes detail to give it a touch of exquisiteness, a shot of short fringes at the ends.
 Unisex Classic Scarf
Elegance and warmth in a luxury product. You will always be correct with this garment, and it never goes out of style.
It is a soft and warm unisex scarf to face winter in style. Very pleasant to wear due to its silky texture.
Braided fringes at the ends give a touch of distinction and elegance.
 Fuller Unisex
The scarf is an ideal unisex accessory that cannot be missing in your dressing room. Created in the sixties, it is a garment that never goes out of style and will always be your best ally to combine with any of your clothes.
It has become an essential item for the modern man who wants to set trends in his step.
You can now wrap up with this beautiful garment that you will find in different colors and a wrinkled appearance that does not need ironing for greater comfort.
Also Read: What is Valentine Nails?