Introduction
If you want to increase your date night makeup routine, date night is the best opportunity to show off your romantic makeup. Some of the best looks spice up your everyday makeup and increase your dinner party romance. Most of us have great skin as teenagers, and it's easy to get away with just about anything. So everyone used to rock a bold red pout and flashy highlighter easily.
However, more often than not, not everyone has bothered to wear a moisturizer or even sunscreen. I went straight from shower to full foundation many times, and my skin still looked great! Some days, not everyone even bothered to remove their makeup before bed. But now that I am twenty-five years old, it is an entirely different story. As we age, our skin loses its elasticity, making it difficult for us to maintain it. Dry skin, blemishes, and clogged pores are common if you neglect your skin. Struggling with some of these issues, my approach to makeup completely changed.
Makeup Looks to Try Better for Date Night Makeup Routine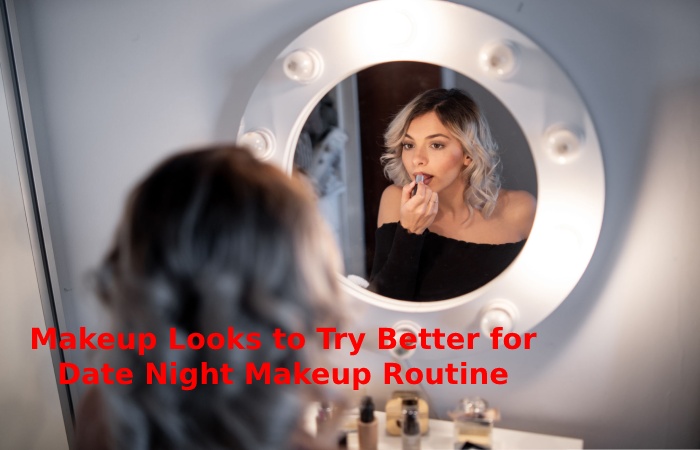 If you meet somebody for the first time, it's a date to give your relationship an official label. We've made sure you look stunning in our different date makeup looks. We promise you will return to us referring to your favorite makeup that you will bookmark at the end of this article.
Peachy Look
Who thought orange makeup would look so unique and fresh? But it's time to ditch the standards and try something peachy with peach and apricot undertones on the eyes, cheeks, and lips, making orange so sexy. You can complement the orange shade with gold and copper eyeshadow, the lips with coral lipstick, and the cheeks with a muted peach blush.
Fierce Look
It is not always essential to emphasize every feature of your face when applying makeup. You can also choose one or two parts, highlight them and let them speak for your whole face. For example, this is the perfect time to break the red lipstick. And what's more, you can pair it with bold brows that make a strong statement and create a unique makeup look. Finally, you can pair the look with not-so-heavy oxidized earrings if you're short on time.
Also Read: Different Kinds of Fairy Makeup
Pop Of Pink
A splash of pink isn't going anywhere anytime soon. And that's why wearing bright pink lipstick will help you express yourself better. Pink is quite a refreshing color that illuminates the skin in any season. But, of course, you also complete the look with a few coats of mascara and sheer makeup on the apples of your cheeks to finish the look.
The Metallic Craze
After several years, metals have taken center stage in the beauty and makeup industry. In the makeup aisle, a metallic eyeshadow is a look that makes you look glam and dazzling. Whether it's a morning night out or a hot date, your makeup will be perfect with a hint of metallic eyeshadow.
Go all colorful
Use as many multicolored eyeshadows as you want for your date night. Amplify your lids with shades of shadow, eyeliner, blush, and more. If you feel comfortable and happy with your appearance, try on as many colors and makeup products as you want.
Terms Related:
Date night makeup step by step
Date makeup
Evening makeup looks step by step
Date night makeup brown eyes
Evening makeup for blue eyes
Natural night makeup
Date night makeup hooded eyes
Conclusion
Change date night makeup, your favorite makeup style, and look like a boss. So far, if you felt less inspired by your hot and glamorous evening, I hope we have helped you a little. From dazzling and dramatic eye makeup to nude makeup and perfectly shimmery makeup, these looks are absolutely to die for. So choose the best for your date, surprise your baby and turn heads!
Also Read: How to Ready for Christmas with Christmas Eye Makeup? Different Types And More